We're Getting Mutants in the MCU - The Loop
Play Sound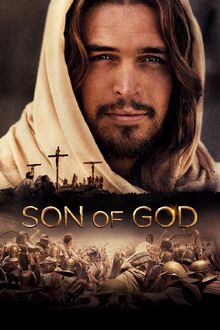 Son of God is a 2014 American epic biblical drama film directed by Christopher Spencer, and produced by Mark Burnett and Roma Downey. The film premiered in New York, and Los Angeles for a limited release on February 21, 2014, and then into a wide release on February 28, 2014. The film retells the life of Jesus and is an adaptation of the ten-hour miniseries The Bible, which aired in March 2013 on the History channel.
Plot
[
]
In the Holy Land, the Roman occupation has produced a cauldron of oppression, anxiety and excessive taxes levied upon the Jewish people. Fearing the wrath of Roman governor Pontius Pilate (Greg Hicks), Jewish high priest Caiaphas (Adrian Schiller) tries to keep control of his people. That control is threatened when Jesus arrives in Jerusalem, performing miracles and spreading messages of love and hope. Those who fear that Jesus will inspire a revolution decide that he must die.
Cast
[
]
Diogo Morgado as

Jesus Christ

Darwin Shaw as Saint Simon Peter
Sebastian Knapp as Saint John
Amber Rose Revah as Mary Magdalene
Roma Downey as Mary, mother of Jesus
Leila Mimmack as Young Virgin Mary
Joe Coen as Saint Joseph
Said Bey as Saint Matthew
Matthew Gravelle as Saint Thomas
Paul Marc Davis as Simon the Pharisee
Joe Wredden as Judas Iscariot
Louise Delamere as Claudia
Simon Kunz as Nicodemus
Adrian Schiller as Caiaphas
Anas Cherin as Lazarus
Fraser Ayres as Barabbas
Greg Hicks as Pontius Pilate
Rick Bacon as Herod Antipas
Sanaa Mouziane as Martha
Production
[
]
The film features select scenes from the miniseries as well as footage not aired in the telecast. However, the film does not include scenes featuring Satan (played by Mohamen Mehdi Ouazanni) due to claims that the actor resembled the United States President Barack Obama. The resemblance was first pointed out by Glenn Beck ahead of that episode's premiere. The film's casting director Carl Proctor, claimed that the resemblance is entirely accidental. The trailer for the film also shows some scenes from the miniseries featuring David (played by Langley Kirkwood), Adam (played by Paul Knops), destruction of the city of Sodom and Moses (played by Will Houston) parting the Red Sea
Release Date
[
]
This movie has been release in February 28, 2014 directly that Teenagers and Adult only with Grandparents. Also this movie has been streaming includes next day. Available on DVD and BluRay will be June 3, 2014 on American and its countries.
Reception
[
]
Box Office
[
]
This movie grossed $59.7M on the North America also $11.2M on other territories. This movie has been totally will be $70.9M overall this movie has been budget in $26.5M on this first weekend.
Critical Reception
[
]
The Rotten Tomatoes received 21% against 73% in audience score based on 73 critics with an average of 5.7/10. The Consultants sides critical consensus says "The faithful may find their spirits raised, but on purely cinematic terms, Son of God is too dull and heavy-handed to spark much fervor." According to Metacritic, the movie received 37/100 over 4.1/10 and says "generally unfavorably reviews. According to The Hollywood Reporter, Ashley Lee wrote have to be home and says "Son of God — the Christian film that expands on and reassembles material from Mark Burnett and Roma Downey's successful 10-hour miniseries on the History Channel — opens in theaters Friday. Directed by Christopher Spencer, thefeature casts Diogo Morgado as the 'first Latin Jesus' and has already sold over half a million presale tickets from religious groups alone." Cinemascore receive "A-" on A+ to F scale. Neil Manow of Beliefnet received B rating and says "It tells the story in a westernized, conventional manner that can seem superficial at times, more a cinematic Sunday School lesson than a movie. It is unlikely to persuade anyone, but it is undeniably moving and many believers will find it inspiring." Raegan Gavin Rasquinha of Times of India recently received 2.5/5 stars and says "If you want to watch some really good movies inspired by and about the life of Christ, there are plenty of other options you can go for instead." Justin Chang of Variety wrote "A stiff, earnest, clunkily edited feature-length account of Jesus' life culled from History's miniseries 'The Bible.'" Jim Slotek of the Toronto Star Received 3/5 stars. Ben Keningsberg of AV Club gave receive Mixed reviews over C rating and says "Unlike Gibson's film, with its relentless and gory focus on Christ's last days, Son Of God finds time for lessons along with its bloodletting. [...] Accompanied by a score that sounds recycled from The Fountain, the most famous scenes are trotted out: "I'll give my stone to the first man who tells me that he has never sinned"; the loaves and fishes; the resurrection of Lazarus; the last supper. It's unlikely Paul Verhoeven will ever get to make his historical Christ movie, but to the extent that Son Of God has a measure of dramatic impact, it's how it illustrates the radicalism of Jesus' message and the threat it posed to the establishment. At any rate, the core ideas are more compelling than the bad effects shots of Jerusalem, the cheesy CG water-walking, or whatever exchanges require the actors to emit something other than a declarative shout." Despite the movie received negative reviews due to the Razzie Awards Dishonorable Mentioned of Worst Picture around this movie received positive reviews on audience score whenever says so bad it's good when happening to say that movie. The Google receive 90% on Google Reviews developed on the Netflix and PVOD premiere instead Internationally.